Ebay Template + +  BENVENUTI NEL NOSTRO
 STORE EBAY
UFFICIALE  + +
Home
Help
392.3745215
Menu type="checkbox" id="drop">
100% Customer
Satisfaction
ACQUISTI
SICURI
reso garantito
entro 14 giorni
spedizione express
UMIDIFICATORE E CARICATORE PER AUTO CON USB DIFFUSORE IONIZZATORE ACCENDISIGARI type="radio" name="slide_switch" id="id1" checked="checked" value="[products_image_url_1]">
type="radio" name="slide_switch" id="id2" value="[products_image_url_2]"> type="radio" name="slide_switch" id="id3" value="[products_image_url_3]"> SPECIFICHE TECNICHE
type="radio" name="tabs" id="tab1" checked="checked"> DescriZionE type="radio" name="tabs" id="tab2"> PAGAMENTI type="radio" name="tabs" id="tab3"> SPEDIZIONI type="radio" name="tabs" id="tab4"> RESI type="radio" name="tabs" id="tab6"> FEEDBACK
UMIDIFICATORE E CARICATORE PER AUTO CON USB DIFFUSORE IONIZZATORE ACCENDISIGARI
Umidificatore per auto che si inserisce nella presa accendisigari da 12V. 
La parte superiore che contiene l'acqua è ruotabile a 180° per adattarsi a qualsiasi tipo di auto. 
Grazie ad un tasto touch ed un led colorato, sarà possibile selezionare se accendere o spegnere 
l'umidificatore, se azionarlo a cicli alternati di 5 secondi o a getto continuo.
È possibile anche inserire qualche goccia di oli essenziali per fare in modo che venga erogata 
la vostra fragranza preferita all'interno dell'auto. 
Sull'umidificatore è presente anche una utilissima porta USB 
che potrete usare per caricare i vostri smartphone.

   Caratteristiche tecniche:
Dimensioni: 57 × 56 × 164 mm
Tensione (V): 12V
Current: 130mA-150mA
Potenza (W): 1.5-2W
Capacità: 50ML
Uscita Mist: 25ML / H
 La confezione contiene:
1x Umidificatore 
1x Spugna
1x Manuale
N.B. IL COLORE VERRA SPEDITO IN BASE ALLA DISPONIBILITA DEL NEGOZIO O PREVIA COMUNICAZIONE

Con 
PayPal
potrai eseguire il pagamento istantaneamente accedendo al tuo account. Anche se non possiedi un account paypal, potrai ugualmente pagare il tuo acquisto con una qualsiasi
Carta di Credito
, selezionando la relativa opzione.
Scegliendo il pagamento con Bonifico Bancario, riceverete le nostre coordinate bancarie via email, al termine della procedura d'acquisto.
Si prega di inserire nella Causale del bonifico il vostro Nome Utente eBay.
Il
Contrassegno
è un comodo metodo di pagamento che le permette di saldare l'acquisto direttamente alla consegna. La spedizione avverrà sempre con Corriere Espresso, così da ricevere la merce in 24/48 ore lavorative.
Offriamo anche il servizio
Pick&Pay
. Per cui potrai decidere, se ti è più comodo, di ordinare online e ritirare l'acquisto presso la nostra sede (previo contatto telefonico). Se preferite invece
altre formule
di pagamento non presenti in lista, contattateci per conoscere se accettate.
Partenopeautensili spedisce in tutta Italia con Servizio Express (isole e zone disagiate comprese). Ci avvaliamo solo della migliore gamma di Corrieri Espresso presenti sul territorio nazionale (GLS). La consegna avverrà rapidamente in 24-48 ore lavorative.
Riceverete automaticamente via email il codice di tracciatura per monitorare il percorso del vostro pacco. Tutte le spedizioni partono dai nostri magazzini dopo sole 24ore lavorative dalla ricezione dell'ordine.
We ship Worldwide
with safe and traceable methods. You can choose between a Standard delivery service (always available all over the world) and an Express service (available for some european countries).
Tutti i nostri clienti hanno il diritto di recedere dall'acquisto entro 14 giorni dalla data di consegna, come previsto dalle norme vigenti. Oltre tale termine perentorio non è più possibile rendere la merce. I prodotti resi devono essere restituiti nelle condizioni originali e insieme agli eventuali accessori con cui vi è stato consegnato, altrimenti il reso non può essere autorizzato.
>.
Ci sono 3 casi specifici di Resi:
1. RESO CON SOSTITUZIONE: Se avete ricevuto un prodotto che volete cambiare con altro articolo, dovete rispedircelo indietro e, una volta rientrato, effettueremo il cambio potendone scegliere un altro nel nostro negozio. L'eventuale differenza di prezzo (minore o maggiore) del prodotto scelto in sostituzione, verrà reintegrata da una delle parti. La nuova spedizione che eseguiremo ha un costo minimo di €3,99 per tutti i clienti italiani (€8,99 per i clienti stranieri).
2. RESO CON RIMBORSO: Se si vuole restituire la merce per ottenere rimborso, basta contattarci per essere autorizzati. Una volta ricevuto il nostro via libera, potete procedere alla restituzione. Vi preghiamo di non spedire indietro il prodotto prima di aver ricevuto l'autorizzazione del nostro Servizio Clienti.
3. RESO PER DANNEGGIAMENTO: Nella difficile ipotesi che il corriere vi consegni un pacco con all'interno merce danneggiata, la procedura di reso è uguale a quella del punto n.1. In questo caso è sempre prevista esclusivamente la sostituzione del prodotto con uno nuovo.
In tutti e 3 i casi - se avete pagato con PayPal - riceverete sempre il rimborso delle spese di reso.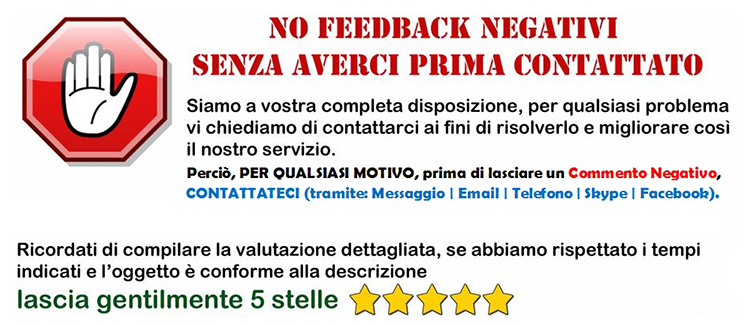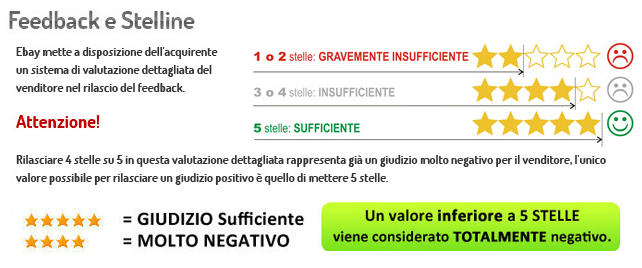 Copyright Partenopea Utensili 2019
Prestalia e-commerce solutions.